Prevention of tooth decay in children
By Dr Hinali Patel BDS & Dr Amit Patel BChD MJDF RCS (ENG) DIP IMP DENT RCS (ENG) MCLINDENT Fixed & Removable Prosthodontics Dist. (LON)
Tooth decay causes issues with eating, sleeping, communication and socialising. Per year, it results in at least 60,000 days being missed by children from school for hospital tooth extractions.
Tooth decay is preventable. It can be prevented by cutting down on sugar and using a fluoride toothpaste. It costs the National Health Service (NHS) £3.4 billion pounds per year in order to treat oral conditions.
Regularly consuming foods and drinks that are high in sugar increase the risk of developing tooth decay, and this leads to an increased risk of obesity and type 2 diabetes. Evidence shows that children are still consuming more than the recommended daily limit of sugar.
Tooth decay is cause by the acid produced by bacteria, when sugar is present in the mouth. The bacteria eat the sugar and release acid, which causes tooth decay on teeth. To prevent tooth decay you have to remove the causative agents – bacteria in plaque, and sugar consumption. This is why eating well and brushing teeth is vital to prevent rotting teeth. The information below informs you of what your child should be doing at the age they are at:
All ages for brushing:
Brush teeth as soon as teeth erupt into the mouth twice a day (once at night and once at any other time of the day)
Parents should brush/supervise toothbrushing
Spit out after toothbrushing and don't rinse after.
Consider using an electric toothbrush
Aged 0-3 years old
6-months – introduce drinking from a cup
1-year old should not be feeding from a bottle
don't add sugar to weaning foods
Use a smear of toothpaste containing 1'000ppm fluoride
Aged 3-6 years old
Pea-size amount of 1350-1500ppm fluoride toothpaste should be used
Aged 7 years and young adults
Normal amount of 1350-1500ppm fluoride toothpaste should be used
Diet advice
Reduce frequency and amount of sugar consumed
Sugary food and drinks should be limited to mealtimes only and maximum four times a day.
Sugar-free medicines are recommended
Foods that contain lots of sugar
Sweets and chocolates, cakes, pastries, buns, biscuits, puddings and pies, table sugar, cereals, jams, preserves and honey, ice cream, syrup, fruit juice, soft drinks, milkshake, alcohol, fruit, sweet sauces i.e. ketchup, protein bars, salad dressing, granola bars, energy drinks, yoghurt with fruit, smoothies, dried fruit
Dental examinations/check ups:
It is important to bring your children in for a check up every 6 months unless your dentist states otherwise. NICE guidelines recommend this as tooth decay progresses faster in baby teeth than adult teeth, therefore they need to be closely monitored.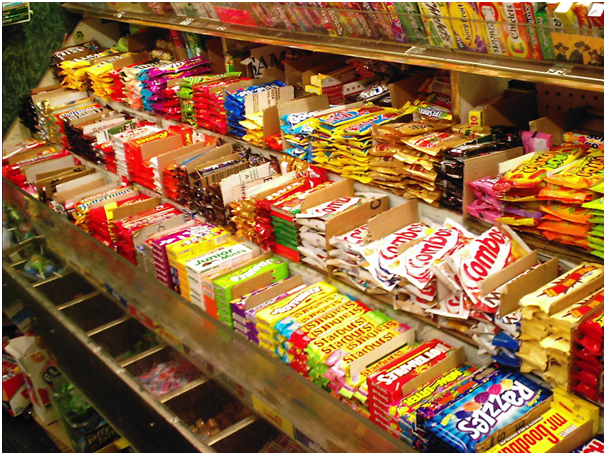 Snacks commonly seen in the stores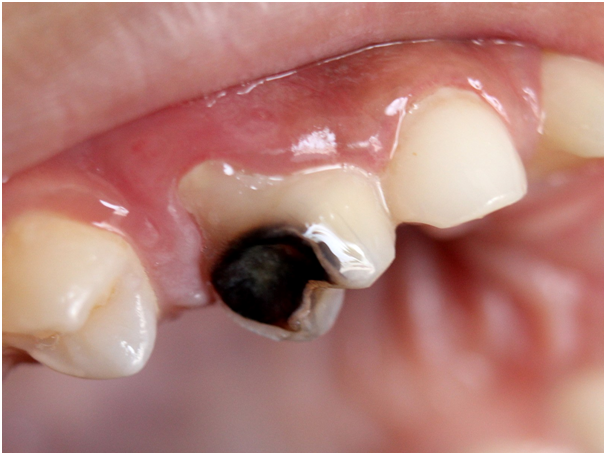 Appearance of tooth decay
---